"Blink Of An Eye" is IBMA Song Of The Year nominee
Bob Amos's original song "Blink Of An Eye", recorded by three time International Bluegrass Music Association male vocalist of the year Danny Paisley, was a finalist nominee for the IBMA's SONG OF THE YEAR for 2022. Bob was invited to attend the Annual IBMA Award Show in September. Bob: "I felt so honored to be nominated for this award, and it was so much fun to see a lot of great old friends from the Bluegrass world.  What a kick!"
"Blink Of An Eye" is the #1 song on the National Bluegrass Chart
BLINK OF AN EYE, a song written by BOB AMOS, and soulfully performed by International Bluegrass Music Association Male Vocalist of the year DANNY PAISLEY, was #1 on the National Bluegrass Airplay Chart for September and October 2021 (publ. by Bluegrass Unlimited). The song is the leadoff cut on Danny's great new CD,  BLUEGRASS TROUBADOR, on Pinecastle Records.
Bob Amos June 2020 Online Concert - hosted by Fairlee Community Arts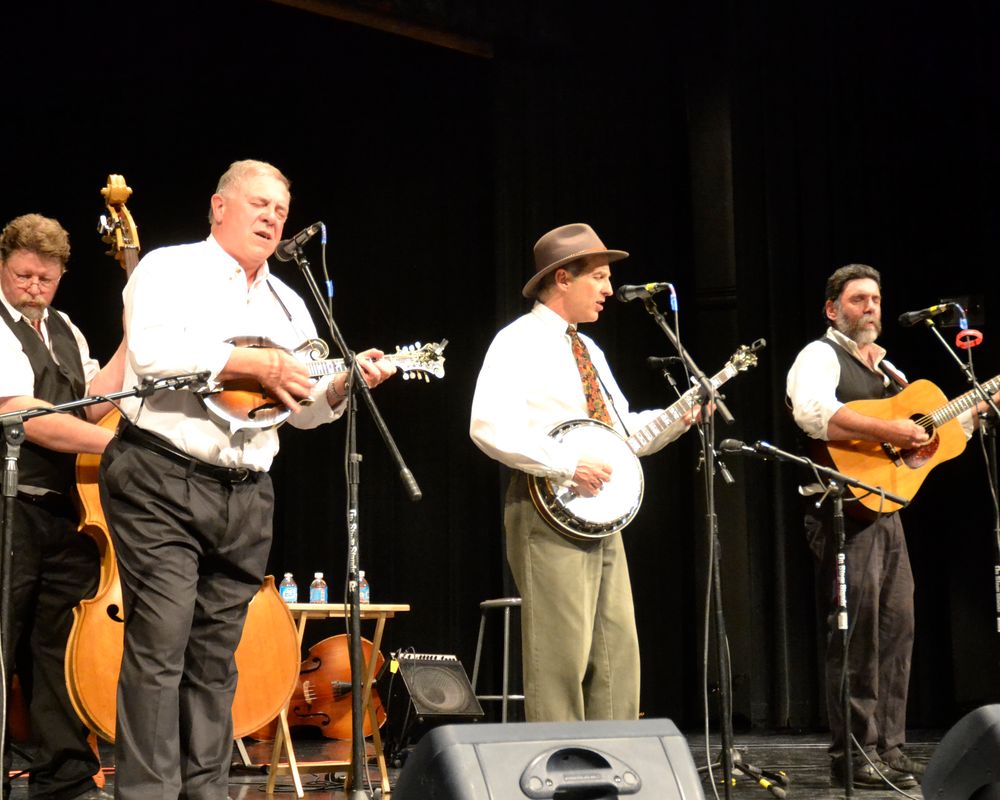 Catamount Arts Bluegrass Night Will Return...Eventually!
Going forward, new safety and logistical considerations have to be considered, but we are working on it!
For over 10 years the Catamount Arts Bluegrass Night concert series has delighted audiences with high level Vermont-based bluegrass, old time, and americana acts, plus a rip-roaring jam session at the end of each program. 
Aug 31, 2019
Two great Northeast Kingdom events coming up in September! Bob Amos & Catamount Crossing will be at the historic Haskell Opera House in Derby Line VT on Sat Sep 7 (with Sky Blue Boys). The show starts at 7:30pm and tickets will be available at the door. Then On Saturday afternoon Sep 14 we'll be at the 2nd Annual  St. JOHNSBURY BLUERASS FESTIVAL from 1-5 pm off of Railroad St. downtown (Free!). Our set is at 2:45 pm. Also appearing  are Beg, Steal or Borrow, Jes and the Blackberry Bushes, and The Kowal Family. Gonna be a lot of fun!
JULY 26, 2019
August is going to be a busy and fun month for Bob Amos & Catamount Crossing. We'll be in Fair Haven VT (Thurs Aug 1), The Merck Forest Center in Rupert VT (Sat Aug 3) www.merckforest.org/events, the Great North Woods Center for the Arts in Columbia NH (Sat Aug 10)  www.gnwca.org , The Peacham Acoustic Music Festival  (Fri Aug 16 BA&CC and Sat Aug 17 Bob & Sarah Amos duo) www.Pamfest.com , and at The Pickin' In The Pasture Bluegrass Festival in Lodi NY (Sat Aug 24)  www.pickininthepasture.com . See the SHOWS page for details. Hope to see you at one of these events!